Woodlands Health Volunteer Squad
Woodlands Health Volunteer Squad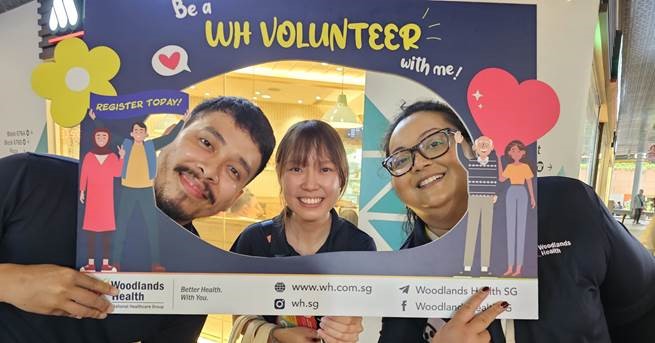 Programme Title
:
Woodlands Health Volunteer Squad
Organiser
:
Woodlands Health (WH)
Commitment
:
At least once a month
Venue
:
Woodlands Health
Background
:
Woodlands Health (WH) – Singapore's newest hospital – is opening in December 2023! WH is a fully integrated acute and community hospital. We offer a range of acute, sub-acute, rehabilitative and transitional care services, working closely with partners to deliver seamless care for our North-Western community.

This December we're looking for volunteers to help make a positive impact to build a compassionate and empowered community with us. Here are the roles available: physical status - can be equipped as a resource to help others.

We are looking for someone who enjoys exercising and is able to join in and motivate the seniors during the session.

1. Navigation Buddy

* Be the warm and friendly face that welcomes patients and visitors
* Introduce the services and facilities at the new hospital
* Assist patients and visitors from the drop-off and meeting points to other areas of the hospital

2. Digital Master

* Assist patients and visitors in using digital platforms

* These include visitor registration kiosks and patient service stations for queue management, appointment bookings and payments

Orientation and training will be provided.

For more information, visit Woodlands Health Volunteer
For enquiries, email volunteer@wh.com.sg
Min age
:
18
Skills required
:
Able to speak Mandarin, Malay, Tamil, or Dialect is a plus.
Scan to register
:

For mobile user, please click on the QR code to register.