Sewing Interest Group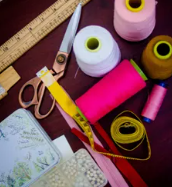 Programme Title
:
Sewing Interest Group
Organiser
:
Sembawang Family Service Centre (SFSC)
Commitment
:
Every Wednesday and Thursday, from 2pm to 4pm
Venue
:
Sewing Interest Group @ SFSC Blk 326 Sembawang Crescent, #01-52, Singapore 750326
Background
:
The aim of this initiative is to provide women from lower-income families the opportunity to supplement their household income through sewing assignments. We work towards helping beneficiaries learn sewing skills. Beneficiaries will learn how to use a sewing machine to make upcycled products such as tote bags, masks, pouches etc, from donated materials (e.g. used banners).

We are looking for volunteers to share their knowledge and skills with other volunteers/beneficiaries, and take on sewing projects.
Min age
:
18
Skills required
:
Training will be provided by in-house trainer.
Scan to register
:

For mobile user, please click on the QR code to register.